Congratulations to VLP's 2015 Pro Bono Award Winners!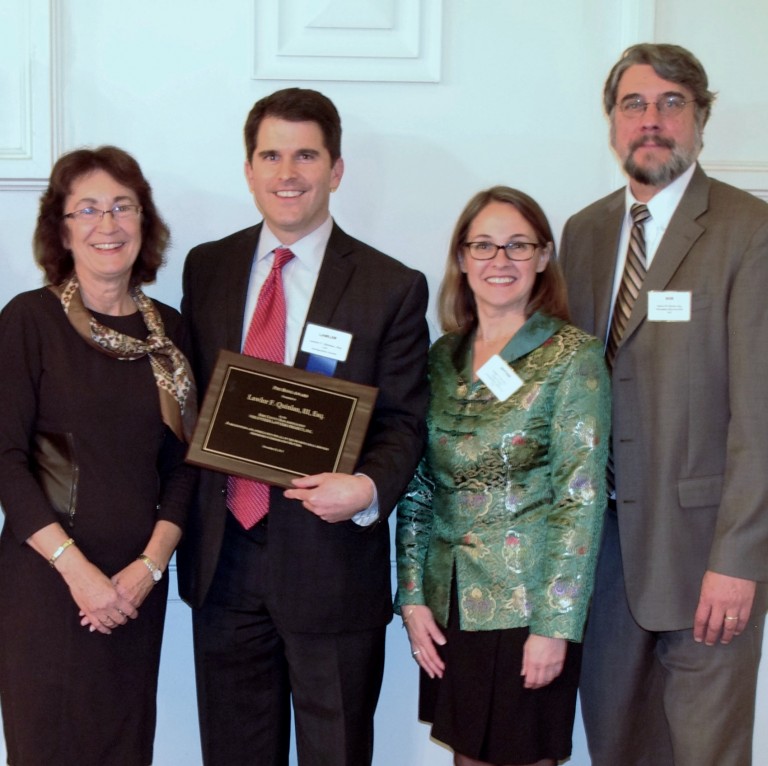 This year's winners and categories are:
Attorney of the Morning (Landlord-Tenant)
Attorney of the Morning (AOM) was created in 1990 out of the BAEC's Task Force on Voluntary Pro Bono.  AOM operates in Buffalo City Court on Mondays, Wednesdays and Fridays. The NYSBA awarded its 1991 Award of Merit to the BAEC for its "innovative" Attorney of the Morning Program. Since then, it has been copied in other cities around the country.
GREGORY DELLA POSTA, Esq., began volunteering at VLP as a newly admitted attorney in January 2015.  Between January 2015 and July 2015, Greg served as our AOM volunteer 31 times and represented clients in 180 eviction cases.  Greg was a reliable and valued volunteer attorney, often serving as the second AOM attorney when the eviction docket was overwhelming.  Greg has done an excellent job negotiating cases to save clients tenancies or to obtaining extra time before moving so our clients did not become homeless.  Greg also zealously advocated for our clients before the Court Referee, often getting the eviction petitions dismissed.  Greg was always willing to assist with difficult cases and clients, and stepping in on a moment's notice. In addition to volunteering his skills and time to AOM, Greg also volunteered with the Unemployment Insurance Program.   We are grateful for Gregory's dedication to the AOM program.  He is truly a Champion for Justice.
Immigration
The Immigration Project at VLP is now in its 16th year and has a staff of five full-time attorneys.  It serves detained and non-detained men and women who are long term permanent residents or asylum seekers. The Project also handles cases involving special immigration benefits for juveniles, and non-citizens who have been victims of crime, including human-trafficking and domestic violence.
LAWLOR F. QUINLAN III, Esq. of Connors LLP attended our annual CLE on removal defense in 2014, and agreed immediately to handle the deportation case of a long-term permanent resident who had come to the US as a refugee from Vietnam. Then, in April of 2015, with very short notice, he agreed to handle the second half of an asylum trial at the Immigration Court in Batavia involving a detained Honduran who had been shot five times and left for dead by the violent gangs in his native country. The gangs operate with impunity and even with law enforcement collaboration, and have that region of the world in a brutal stranglehold resulting in thousands fleeing to the U.S. for safety. Their consequent eligibility for asylum is a dynamic issue in asylum law today. Lawlor examined two volunteer expert medical witnesses in the case and conducted a re-examination of our client, after proofreading a pre-hearing brief, and quickly learning a difficult and evolving area of immigration law. He also assisted in an appellate brief which resulted in a victory for the traumatized client after the Immigration Court had found him not eligible for asylum. Lawlor's compassion for the client, who had been viciously persecuted in his native Honduras, and his commitment to the case were extraordinary.
VLP "V.I.P." Award
This award is for those who have been particularly important to the success of VLP and to the relative sanity of the VLP staff.  This is due to the award winner's long time commitment and willingness to help in ways that that few others are willing to do.
THE WESTERN NEW YORK CENTER FOR SURVIVORS OF TORTURE was established in 2014 has been essential to the work the Immigration Program does representing indigent victims of past persecution and torture who are seeking asylum in the U.S. This innovative and invaluable program of Jewish Family Service of Buffalo and Erie County has assisted in four of our cases this past year by locating pro bono physicians and mental health professionals who conduct thorough physical and psychiatric forensic examinations, in compliance with the Istanbul Protocol and under the training of Physicians for Human Rights, to confirm by affidavit and through court testimony the past violence and trauma our clients have suffered at the hands of their governments, rebel groups and gangs. This evidence is usually decisive in our cases to establish past persecution and/or torture, and we are extremely grateful to: Jewish Family Services' Executive Director, Marlene Schillinger, and the center director, Pam Kefi, for having had the insight and motivation to create and run a program such as this one in Buffalo;  and to Dr. Kim Griswold of UB Family Medicine, a WNYCST partner, for personally having examined several of our clients, even before the creation on WNYCST, for evidence of torture, including FGM, and testifying before the Immigration Court. We also acknowledge Journeys End Refugee Services, which has played a role in the development of WNYCST as the founding legal partner.
Federal Court
In early 2014, VLP began operation of the Pro Se Assistance Program (PSAP), a limited scope counsel and advice clinic in the Courthouse to advise pro se litigants involved in Western District of NY cases. This program is in partnership with the Federal Bar Association Western District of NY Chapter, the SUNY Buffalo Law School, and the Court.
CHARLES S. CARRA, Esq. is a well-respected, veteran federal court litigator, who was asked by Chief Judge Richard J. Arcara in 2013 to act as the Senior Pro Se Staff Attorney for the Western District of New York in 2003.  Mr. Carra presently supervises the day-to-day operations of the Court's Pro Se Office and serves as a Pro Se Law Clerk to the Court.  He was a key player in turning the idea of providing free legal assistance to pro se litigants in Federal Court into reality.  He was a member of the original planning committee and he made sure that things got done in the Courthouse so that the program could operate.  Because of Chuck's attention to detail, legal skills, and knowledge of the needs of pro se litigants, the Pro Se Assistance Program, which launched in February 2014, is now an important part of our Federal Courthouse in Buffalo.  Mr. Carra developed and presented at the inaugural CLE for interested Federal Court litigators.  He is always generous in his mentoring of law student intern volunteers.  His commitment to the PSAP is a prime reason for the PSAP's success.  Since the PSAP opened, 40 volunteer attorneys have assisted 206 low income clients who are navigating the complex Federal Court legal process on their own.  Charles S. Carra, you are a true Champion for Justice.
Family Law Help Desk
Many family problems (such as paternity, support, orders of protection, custody and visitation) end up in Family Court.  VLP's Family Court Help Desk was created in 2013 and brings experienced Family Court practitioners, law students, and a VLP staff member together to provide brief counsel and advice for unrepresented Family Court litigants. 
DANIEL S. JOHNSTON, Esq., who spent 37 years in the New York Courts, recently retired as the Chief Deputy Clerk of the Erie County Family Court, a post he held for 27years.  Mr. Johnston was instrumental in getting the Family Court Help Desk (FCHD) up and running. He secured the initial space for the FCHD.   He was a valued participant in the collaborative planning process between the Courts, VLP, and SUNY Buffalo Law School.  Since September 16, 2013, over 1700 clients have benefitted from critical limited scope legal advice and assistance from more than 60 volunteer attorneys at the Family Court Help Desk.  Dan has consistently gone above and beyond as a court administrator, always making sure that the needs of the FCHD were met.  Dan recognized the needs of the FCHD as it served significant numbers of clients resulting in reduced unnecessary court filings.  He was a key player in obtaining new dedicated space within the Courthouse, which we will be moving into in early 2016.  Dan has always treated the FCHD staff, volunteers and clients with the utmost respect.  He is truly a Champion for Justice.
Law Student Volunteer
Besides attorneys there are also law students, paralegals, law graduates and even college and high school students who volunteer in VLP's offices assisting the staff with all of the work that goes into interviewing the clients, processing the cases and operating the special projects. This award recognizes the outstanding volunteer efforts by a law student.
JASON S. FLEISCHER is a 2L at SUNY Buffalo Law School, who learned about opportunities for law student volunteers during Pro Bono Week at the Law School in October 2014.  Shortly thereafter, Jason became a regular Friday volunteer at the Attorney of the Morning eviction defense program.  He quickly earned a reputation as being very intelligent and hardworking, and was later accepted as a Summer 2015 Intern.  Early on, Jason showed interest in many practice areas, and spent his time volunteering with the Unemployment Insurance Benefit Program, the Attorney of the Morning Program, the Family Court Help Desk, Low Income Taxpayer Clinic, Immigration, General and Family Law.  With each assignment, Jason continued to impress the VLP staff.  Jason stood apart from our many other law student volunteers because of his desire to learn, and ability to understand and empathize with our clients.  Moreover, Jason donated his time without receiving law school course credit.   He truly exemplifies a dedication to VLP and our mission that is not often found in a law student.  Jason Fleischer is a true Champion for Justice.
Divorce
Poverty can make family problems worse.  Divorce is a subject matter where we always have a list of clients waiting to be referred to a pro bono attorney.  Having attorneys committed to helping by handling pro bono divorces relieves a great deal of stress for the clients and for the VLP staff.
MARC SHATKIN, Esq. has been volunteering for VLP since 1994.  In 21 years as a VLP volunteer, Marc handled 29 cases spending over 407 hours representing our clients.  He was the first pro bono attorney at VLP to represent a same-sex divorce defendant, spending 35 hours on the case.  Marc often represents clients whose case is in IDV Court.  He gladly assists clients whose cases are complex.  Marc's commitment over the years is worthy of recognition.  He is a dependable, reliable volunteer who always answers our call for help.  We have always been able to count on Marc Shatkin.  He is a longstanding Champion for Justice.
THOMAS A. STEFFAN, Esq., has been a valued VLP volunteer since 1997.  He has spent over 248 hours working on 21 cases in 18 years.  Volunteers like Thomas Steffan are the backbone of VLP's mission.  Tom shares his expertise in bankruptcy, divorce and QDRO's with VLP clients.  Tom accepts challenging clients with difficult cases.  He always has one or more active VLP cases at any given time.  It is not unusual for Tom to spend between 30 – 50 hours assisting a VLP client.  Tom has quietly and professionally assisted VLP's clients over the years.  It is time to honor his longtime commitment to VLP.  He is a Champion for Justice.   
Law Firm Commitment Award
Law firms demonstrate their commitment to assist VLP and our low income clients in so many ways.  Some handle labor intensive cases. Some handle a high volume of cases. Many provide financial assistance to support VLP's services. 
This past year, 5 local law firms answered the call to help staff the newly created VLP Say Yes Legal Clinics (legal clinics) in four Buffalo Public Schools. These 5 firms went through training and adopted or co-adopted clinics.  Each week they sent one or two lawyers to help staff a clinic and help the families of Buffalo Public School children to navigate through important legal problems that could affect not only the family, but also the child's performance in school.  As Federal Magistrate Hugh Scott (Co-Chair of the Say Yes Legal Task Force) likes to say, these lawyers are helping to remove some of the noise which interferes with the children's ability to learn.
BARCLAY DAMON LLP was originally involved with the legal clinics as Hiscock Barclay LLP.  VLP Board member and Barclay Damon partner, Robert Heary, assisted in the planning phase by introducing us to his Syracuse office partner, Susan Katzoff, who led the firm's Syracuse legal clinic involvement.  Last year Hiscock Barclay co-adopted East High School, sharing the staffing with Harris Beach.  This year, Buffalo's 3rd largest law firm, Barclay Damon, generously adopted the Adult Learning Center and staffs this new legal clinic from noon-2 pm on Wednesday afternoons, serving a previously underserved population.  Barclay Damon introduced the legal clinics to its attorneys at an October 2015 CLE program.  Managing Directors James Domagalski and Peter Marlette welcomed the chance to make a difference in Buffalo by participating in the legal clinics.  VLP is pleased to recognize Barclay Damon's commitment to our community's families in need, through continued pro bono legal support, including the Say Yes Legal Clinics and their financial support. Barclay Damon attorneys are Champions for Justice.
HARRIS BEACH PLLC was the second Buffalo law firm with a Syracuse office that VLP approached for help getting the legal clinics up and running.  Tracie Lopardi, a Harris Beach partner, connected us with Anthony Marshall, a partner in their Syracuse office, who provided invaluable assistance.  Anthony Marshall also generously participated via Skype in our two kick off meetings, providing unique and important information to interested attorneys.  Bradlee Townsend, the Buffalo office's managing partner, reports that like the Syracuse office, Buffalo's Harris Beach attorneys are 100% involved in the Say Yes Legal Clinics.  Harris Beach co-adopted East High School, and their attorneys are excited to partner with the Buffalo Public Schools, Say Yes and VLP to provide critical legal advice and assistance to those who need it most.  Thank you Tracie Lopardi, Anthony Marshall, Bradlee Townsend and all the Harris Beach attorneys for being Champions for Justice.
HODGSON RUSS LLP pro bono partner, Joshua Feinstein, immediately agreed to adopt a Buffalo Public School when he learned about the Say Yes Legal Clinic opportunity.  Dozens of the firm's attorneys, many of whom are strong supporters of VLP through their pro bono services through the Attorney of the Morning Program and individual case referrals, and generous financial contributions, have made the time in their busy schedules to give back to the Buffalo community.  Hodgson Russ attorneys meet with clients at School 54 every Wednesday afternoon from 3:30 to 5:30 pm.  The Hodgson Russ attorneys use their legal expertise to make a difference in so many people's lives. Hodgson Russ is a strong VLP supporter, provides consistent, reliable and skilled pro bono legal assistance, and generous financial support.   For this, Hodgson Russ, you are true Champions for Justice.
LIPPES MATHIAS WEXLER FRIEDMAN LLP partner Thomas Gaffney, listened with interest to Judge Scott, Anthony Marshall, and the others presenting at the Say Yes kickoff in October 2014.  The firm initially agreed to participate on a limited basis.  Following a training session by VLP, the firm attorneys agreed that they wanted a greater involvement, and adopted VLP's School 18 Say Yes Legal Clinic.  Now their attorneys spend Mondays from 3:30 – 5:30 helping clients at School 18 on Buffalo's lower West Side.  They are all Champions for Justice.
PHILLIPS LYTLE LLP continues its rich tradition of pro bono legal services through its support of the legal clinics.  William Brennan, the Pro Bono Partner and VLP board member for 10 years, along with managing attorney David McNamara, quickly agreed to adopt South Park High School, when asked to help.  Phillips Lytle attorneys are helping students succeed, one family at a time, by meeting with clients at South Park High School every Tuesday from 3:30 – 5:30.  Phillips Lytle attorneys provide consistently strong pro bono legal assistance for VLP clients in need through the Attorney of the Morning Program and individual case referrals, they contributed financially, and they continue to support the legal clinics. They are true Champions of Justice. 
Complete list of VLP Pro Bono Award Winners: 1993 to 2015